AMERICAN BOMBSHELL: A TALE OF DOMESTIC AND INTERNATIONAL INVASION
A NOVEL BY RACHEL MARSDEN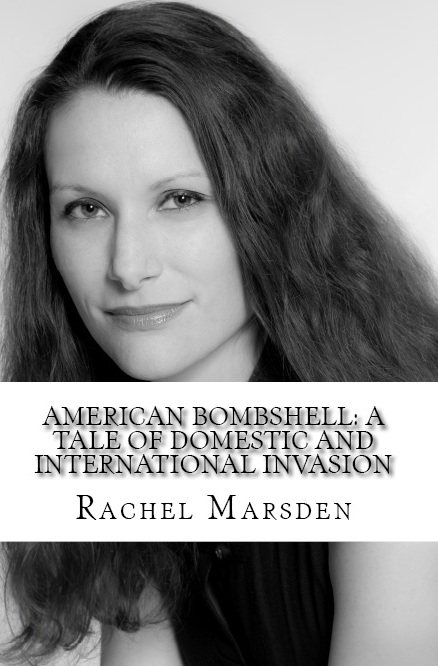 Download Kindle/e-book version here:
Order Trade Paperback version here:
Synopsis:

In this breakthrough novel by political and media figure Rachel Marsden, Catherine Carson is the newest right-wing television star and co-host for America's top-rated television news network: BUX News. Carson, a former Republican strategist and Iraq War spin doctor, is known as a gifted sniper in both political backrooms and on-air verbal combat, but quickly discovers that no battle compares with those fought in the corridors of the television news giant. Suddenly leaving the network in a storm of speculation, she heads to Paris, France, on vacation – the last place anyone would expect to find an American right-wing opinion leader. A chance encounter leads to a new position advising the eccentric President of France, as Carson falls under the spell of the country's most popular politician – the President's nemesis – who seduces her into the biggest fight of her life, on the battlefield of love. In both work and romance, she wonders if she finally may have pursued her quest for adventure too far.


About the Author:

Rachel Marsden is an international political and media strategist, syndicated columnist, journalist, and writer. Formerly a New York based FOX News Channel co-host and contributor, she has appeared on CNN, CNBC, Al Jazeera, Russia's RT Television, Global Television (Canada), LCP France, iTele France, Paris Premiere, France24 and others. She is syndicated internationally and within America by the (Chicago) Tribune Media Syndicate, and writes regularly for publications such as the Wall Street Journal, Spectator Magazine, and Human Events Magazine. A strategy and communications advisor to top-level public and private sector clients, she teaches at the Paris Institute of Political Studies. She can be reached through her website at www.rachelmarsden.com